Mutter mutter, it's not like they have no new civilian editions to show, mutter mutter...
Anyway.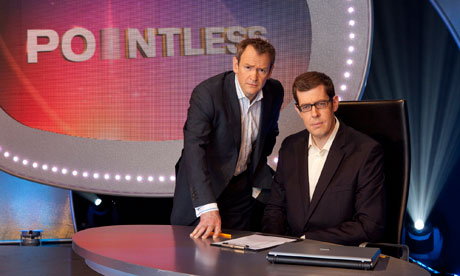 On Monday 25th July at 5.10 there's a repeat of the Blue Peter Pointless Celebrities special, with Peter Purves and Yvette Fielding, Simon Groom and Janet Ellis, Anthea Turner and Tim Vincent, and Barney Harwood and Lindsey Russell.
There's a repeated teachers' show on Tuesday 26th, with Gwyneth Powell and Michelle Gayle, Philip Martin Brown and Melanie Hill, Steve Spiers and Terrence Hardiman, and Jonny Mitchell and Mike Steer.
Wednesday 27th is a medical special, with Ian Bleasdale and Sunetra Sarker, Duncan Preston and Nichola McAuliffe, Ian Kelsey and Paul Bradley, and Dr Sarah Jarvis and George Layton
On Thursday 28th there's an 80s special, with Stephanie Beacham and Emma Samms, Anne Diamond and Rustie Lee, Denise Pearson and Stedman Pearson, and Tessa Sanderson and Willie Thorne.
And finally, the Friday 29th July show is a repeat of the theatre special with David Bradley and Simon Williams, Les Dennis and Warwick Davis, Bill Kenwright and Jenny Seagrove, and Clive Mantle and Connie Fisher.