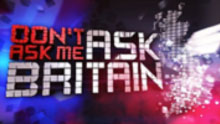 Alexander Armstrong will host a live, interactive gameshow for ITV,
Don't Ask Me, Ask Britain
. In the show, a celebrity panel will be given a set of questions and multiple choice answers. They have to try to guess which one was picked by the most viewers at home.
Xander said:
It's going to be a unique broadcasting experience. We're harnessing the voting public like never before to get instant referendums on the questions that really count: what is the sexiest regional accent, and what to do when you block the toilet at a dinner party – the big stuff.
Viewers wanting to vote over the course of the six-episode series will need to
download a free app
onto their smartphones. The series starts on Tuesday 18th April at 8pm. Full dates and ticket details are
here
.